How to Insulate and Ventilate Knee Wall Attics
August 23, 2012
--
0 comments

.
Do you have sloped ceilings on your top floor? Do you have a bonus room over your garage in your newer home? Are there little 4-6′ walls under the sloped ceiling with a door to a storage area? 
Then you, my friend, have knee walls. Your house could have 2 stories, or it could have 3. You may call it a Cape Cod, a Bungalow, a bonus room, or any of a number of different names.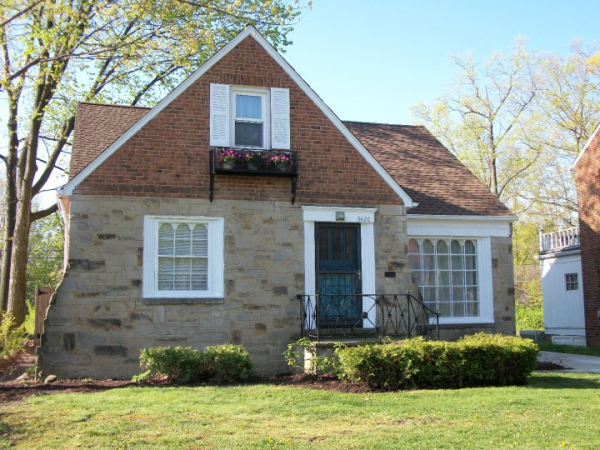 What all those names share is that it has been a hot summer, and that room or rooms have been uncomfortably hot. That's OK, though, because they're going to be cold in a few months. Obviously, that's not OK, or you wouldn't be reading this.
I owned a Cape Cod house in Cleveland Heights (pictured above) early into my career as a home performance guy. Like you, I wondered how the heck to insulate the dumb thing. I was lucky enough to go to training from Ohio's low-income Home Weatherization Assistance Program (HWAP); they taught me a ton and my questions were answered. My method is adapted from theirs.
You probably have a few questions, too:
a. Where should I put the insulation, on the roof or on the wall?
b. Somebody told me I should air seal, what does that mean?
c. Another friend told me I need attic ventilation, how do I do that and what does it mean? 
Never fear, all will become clear. If it doesn't, read it again… (kidding!) In reality, you will probably heckle me in the comments.
Enough babbling, get on with it!
First off, let's learn a little theory for your house and the knee walls.
Knee walls leak heat in (at least) 2 ways:
1. Through the wall. This is the obvious part, especially if there is no insulation in them.
2. Through the floor joist. The floor of the room with the knee wall is typically connected to the attic. This means heat (especially air) from the floor below flows right into the attic.
You know what? This is confusing. How about a picture? They're worth at least a thousand words, right? This diagram is what your house would look like from the side if you peeled the wall off. Study this for a minute and familiarize yourself with the terms. Also, check out the heat flows. Heat also rises into the top attic, I'm focusing on the knee walls. This diagram is set up for the winter, the summer works exactly the opposite.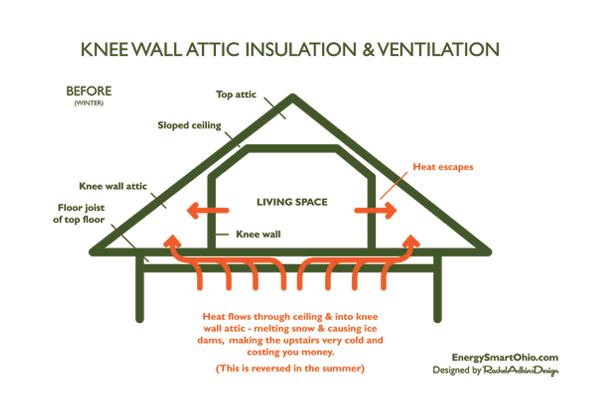 It is surprising how many attics look just like this, no ventilation or insulation at all. Others have a few inches of insulation somewhere. The key junction is right below the knee walls in the floor joist. These areas have been responsible for up to 56% of actual air leakage that we have fixed. Yes, that's over 1/2 the leakage of the entire house. If you only do one thing in your knee wall attics, seal those holes. (Common sense disclosure, your results may vary. Some houses only see small improvements in air leakage when sealing these areas.)
Now, a note on materials for insulating the actual knee wall. There are as many ways to do it as there are people who do it. One of the best methods is rigid foam board with sealed joints over insulation in the knee wall. This is not very easy in most of the older houses we work on because the hatches and attics are too small to get rigid foam board through.
We prefer a perforated version of the locally made Solar Guard reflective insulation, also known as a radiant barrier, so we don't create a double vapor barrier. This gives a total R-value of R-17 (R-13 fiberglass plus R-4 for the Solar Guard.)
Sometimes we will change the Solar Guard out for R-30 fiberglass rolls, which gives a total R-value of R-43. The R-30 will fall over if we don't hold it up, plus it is vulnerable to convection, so we cover it with house wrap, which is an air barrier, but not a vapor barrier.
Bonus Section: If you try this yourself, DO NOT use plastic or you will cause water problems. Foam board, if not sealed very well can also cause problems. A house wrap like Tyvek or a perforated (with pinprick holes) radiant barrier are good covers for fiberglass in knee walls. Don't use the usual radiant barriers sold at Home Depot and Lowe's, they are not perforated. The key is whatever material you use must allow water vapor through it. (I'll deal with double vapor barriers more fully in another post.)
Let's take a look at a diagram of a finished knee wall job from Energy Smart Home Performance.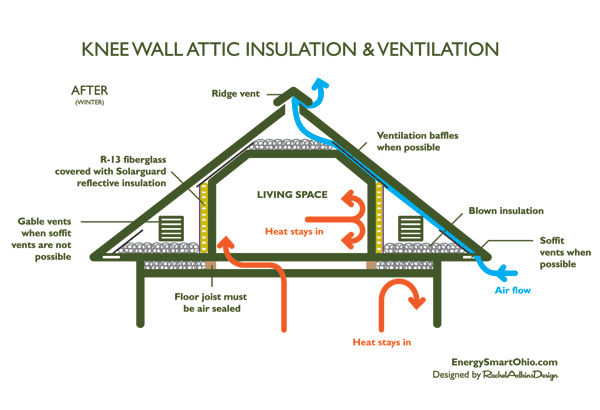 Wow, there's a lot of new stuff there!
Insulation & Air Sealing
a. Knee walls have R-13 fiberglass rolls (also called batts) in them, covered with stapled on reflective insulation. I call this "tin foil on steroids", because that's what it is. The main purpose of this material is to seal the fiberglass batts. If the batts are even 1/4″ away from the wall, they have an effective R-value of 0 because air flows behind them. Fiberglass also performs poorly when the 'fluffy' side is showing, losing up to 1/2 its R-value to convection. Check out this study from Oak Ridge National Laboratory. The radiant barrier also adds a little R-value and reflects 97% of the radiant energy that hits it. Most of the heat in the attic in the summer is radiant energy, so reflective insulations are a nice fit for this application, in my humble opinion.
b. Floor joists are air sealed below knee walls. Wonder what that looks like? Here you go.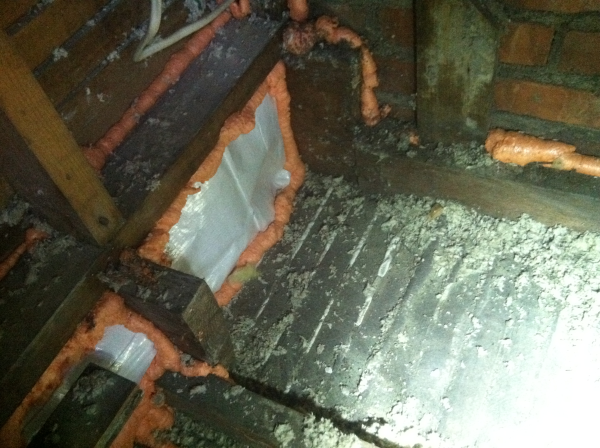 The white stuff is vinyl-faced fiberglass to fill most of the hole with Fireblock foam insulation around it. Added bonus, the floor of this knee wall leaked too, so there is a line of foam just above the floor joist. We reduced the air leakage nearly 50% on this house in Shaker Heights, without insulating the walls.
c. Blown insulation in the knee wall and top attics. We prefer cellulose, but we use fiberglass sometimes too. I recommend the Department of Energy's climate zone suggestion of R-49 up to R-60. In fact, because the slopes hold so little insulation, I will sometimes give an option for R-70 or R-80 to help balance out the R-23 max that fits in the slopes. (Full disclosure, I have about R-80 in my current attic, so I drank the Kool Aid, but I do know a guy who will do it cheap.)
Ventilation
Like everything in life, you need an 'in' door and an 'out' door. While the house should be tight, the attic should breathe to allow excess heat and moisture out of the house. Check our ventilation page for more info.
Ventilating knee wall attics is challenging. In an ideal world, we install soffit vents as intakes, make sure the slopes can breathe with ventilation baffles, and exhaust through a ridge vent. Old school roof vents (which look like rectangles on the roof) work pretty well too.
Sometimes, though, there are no soffits. Instead, we will install gable vents to provide intake ventilation.
Other times, we can't get into the top attic, or there isn't one because the slope runs all the way to the peak. In those cases we usually follow HWAP protocol and dense pack them with insulation, since we can't be sure that ventilation baffles will provide continuous ventilation in a blind cavity. When that happens, I also like to use power gable vent fans to be sure that the knee wall attics actually get some air flow, particularly in the summer when those attics can get to 150 degrees. Gable vents, by themselves, really don't flow much air. (There is disagreement about everything in this paragraph within the building science community. There is a lot of disagreement in the building science community, though.)
So there is your basic primer on how to insulate, air seal, and ventilate knee wall attics. I'm sure there are more questions, so please leave any questions or comments below.
Thirsty for More Detail?
We're working on an eBook with much more information including:
– How to diagnose your home
– DIY directions
– Complete descriptions of this method and the other method to insulate and ventilate knee walls, called a 'redefine.'
– Pricing for both DIY materials and contractor options
 Sign up here to find out when it launches, our target date is March 1st!
Comments
Get the HVAC Guide
It's free! Make buying a new furnace, air conditioner, or heat pump less stressful.
---
---